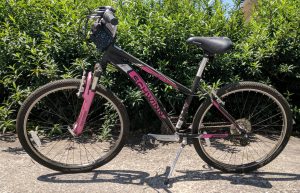 In an effort to assist citizens in our community that are in need of transportation in order to secure employment (primarily in a homeless situation or in transitional housing) we are spearheading a project to provide free bicycles. This enables these individuals to be better able to provide for themselves and their families.  We are working directly with David Burleson at Burke Mission Station to identify individuals that would benefit from this program.
In addition to providing a bicycle, each recipient will receive a bike helmet and a lock.  Plans are to provide a brief bike safety/basic maintenance training class as a requirement to receive the bike.
Donations for the following can be used and will be greatly appreciated: 
New or used 26 – 28 inch adult bicycles
Adult bike helmets
Bike chain/lock
Bicycle tire pump
Packaged Trail Mix
Please direct inquires or questions to Annette Brinkley cell# 828-612-2781. Donations may be dropped off at Brinkley Insurance Agency and Bingham Storage in Valdese or can be picked up.