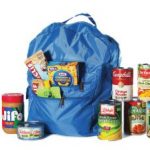 Hallyburton Weekend Backpacks are covered by Drexel First Baptist Church, Mount Calvary Baptist Church and the Hallyburton Staff (the final Friday of the month). This year the Hallyburton Staff will cover October 27, November 21 (the Tuesday before Thanksgiving), December 19 (the Tuesday before the Christmas break), January 26, February 23, March 29 (the Thursday before Spring break), April 27, and May 18.
As part of our District Grant serving the Ministerial Association, we will purchase $330 worth of supplies for the backpacks for the Hallyburton Staff times. We will shop, deliver and organize. Hopefully, we can also help pack.
We are also collecting items from Rotarians to help fill the shelves. Through October, bring in peanut butter, ramen noodles, instant oats, crackers, pop tarts, breakfast bars, fruit cups, and snacks.  This is to cover 2 breakfast items, 2 lunch items, 2 dinner items, and snacks for the weekend.
As a part of this grant, we will also volunteer at DFBC's BREAD – Food Ministry – 2nd Sunday of the Month, 80 families served. Dates are coming.