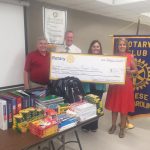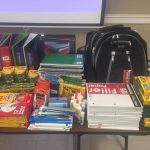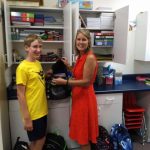 We started working on the Valdese Ministerial Grant this month with Cornerstone Baptist Church and their school supply ministry.
Through the ministry, they provide filled backpacks to students who are identified by teachers who are in need of basic supplies and book bags. At the August 22 meeting, we presented Cindy Stephens with a check representing the $360 we will provide to  Cornerstone this year. She told us how grateful the students are to be able to go to school with new supplies – even the supplies needed for the classroom. The recipients also appreciate the private manner in which the process is handled.
For this first installment, club members shopped for school supplies using $250 of the money and other club members brought in donations of school supplies. $100 remains to spend during the school year.
Supplies were delivered this time by Beth and Interact Member, Zakk.
The ministry also helps with other needs of the school children. It turned out a certain size boys clothing was needed for back to school and Rotary provided 4 pairs of shorts and 2 shirts for a child.