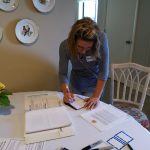 August 18, 2017
Melanie, Joy and Beth H attended the Memory Cafe at Grace Ridge on August 17 to see how it operates. With experience in long term care, Melanie knew all the questions to ask regarding how we could get started with our own Memory Cafe in Valdese. No decision has been made yet, but we are giving it serious consideration.
July 28, 2017

Rotarian and Hospice Employee Mark Stinson would like to see our club start a Memory Cafe in Eastern Burke County. Currently, Mark is a volunteer at the Memory Cafe held at Grace Ridge that is sponsored by Hospice, Grace Ridge and ADAPT. Though held at Grace Ridge, this program is open to the community at no cost.
A Memory Cafe is a monthly event that a dementia patient and their care giver attend. Once there, the dementia patient goes for crafts, music, etc while the care giver goes for education and support. They have time away from each other in a supportive, caring environment.
Beth and Lu met with Mark, Charity from Grace Ridge and folks from ADAPT and Premier Home Health to discuss the possibility of our club becoming involved. With our club's support of CART (funding Alzheimer's research), this is a logical extension to help those suffering now (patient and care giver) while a cure is being developed. The depth of our involvement will be determined as we discuss the idea among club members and at the August 8 Board Meeting. Participation could range from donating supplies needed at a session, to volunteering at a Memory Cafe session to leading the entire process to start a cafe in our area.
We have the opportunity to attend the next Memory Cafe on Thursday, August 17, 3:00-4:30 pm to see how the process works. From that visit and knowing how many of our members are interested in the project, we can determine our involvement.
For more about the Memory Cafe at Grace Ridge, see the News Herald Article from July 2016 when the program was getting started….