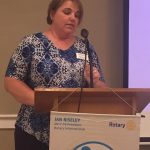 Julie Cook-Walker, Education Specialist with the Alzheimer's Association presented the program today at our weekly Tuesday meeting.
A few facts she shared – Alzheimer's is the sixth leading cause of death in the U.S. Women are affected more than men and the average age is 71.
The organization offers a 24 hour support hotline –  1.800.272.3900 – for where/how to get support and for those who just need to talk. They offer free education to the community.
They have a fundraising walk coming up in Hickory on Oct 28. We will be working on getting a team together along with our Interact Clubs.