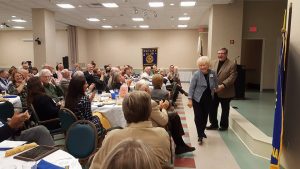 The 2nd Annual CART (facebook and web) Dinner will be on Tuesday, October 3 at 6:00 pm at Grace Ridge in Morganton.
Tickets are $15 and must be purchased in advance. All proceeds from the ticket sales go directly to CART for research.  This is possible due to our sponsors and host, which include Carolinas HealthCare System Blue Ridge and Grace Ridge Retirement Community.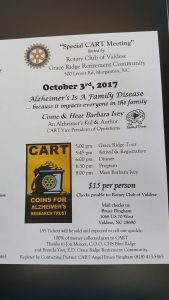 For the 2016 dinner, program organizer Bruce Bingham brought in Carl White of Life in the Carolinas to show and discuss his program "Remembering No More, A Story of Change" about Alzheimer's.
This year's speaker will be Barbara Ivey, an author and Operations Manager for CART.  She is an Alzheimer Kid – meaning her parent had the disease and she is going to share how Alzheimer's is a family disease.
Tours of Grace Ridge start at 5:00 pm and take about 30 minutes. Dinner follows at 6:00 and the program will begin at 6:30. Be sure to stay after for a meet and greet with Barbara Ivey.
Bruce is the CART Angel for our Rotary District. He has been traveling to the clubs in our area to tell them about the CART dinner.